The 2-megawatt tidal turbine will feature four 10-meter composite blades, and is expected to be the most powerful tidal turbine to date.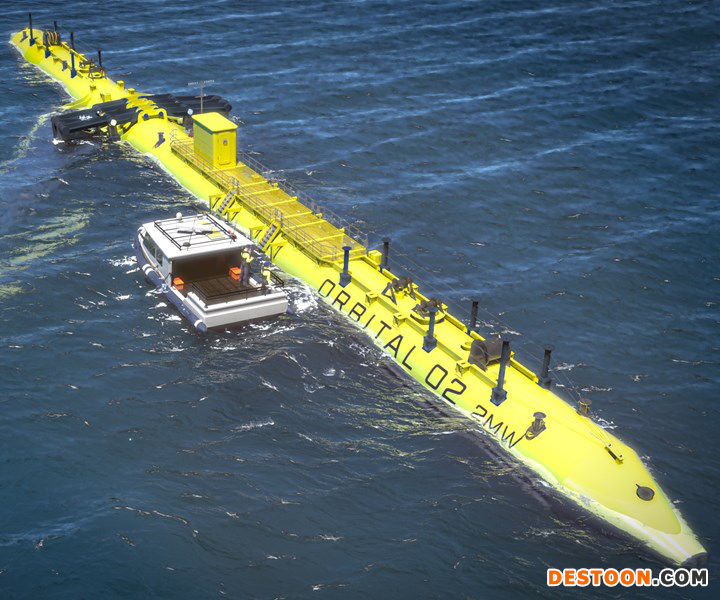 The O2 2-megawatt tidal turbine. Source | Orbital Marine Power Ltd.
AC Marine & Composites Ltd. (ACMC; Gospart, U.K.) has been awarded a contract to supply composite blades for floating tidal stream turbine developer Orbital Marine Power Ltd.'s (Orbital; Orkney and Edinburgh, U.K.) first commercial O2 tidal turbine. ACMC will manufacture the blades at its facilities in Gospart, Hampshire, U.K.
According to Orbital, ACMC will build 10-meter composite blades for both of the O2's twin rotors, with four blades in total, giving the machine a swept area of more than 600 square meters. Orbital says this is the largest ever on a tidal turbine.
Bespoke resin injection machine from AC Marine & Composites. Source | Orbital Marine Power Ltd.
The O2, capable of generating more than 2 megawatts of power from tidal stream resources, will reportedly become the world's most powerful tidal turbine when it enters operation later next year as part of a long-term project at the European Marine Energy Centre in Orkney, Scotland. Improvements in Orbital's platform design have allowed for a rotor diameter increase of 4 meters on the company's previous, record-breaking 2-megawatt SR2000 turbine, and the O2 will be capable of producing electricity for more than 1,700 U.K. homes.
"AC Marine & Composites have an impressive track record in delivering high-quality composites solutions to a range of sectors including marine energy. We are delighted that they are supporting the commercialization of our technology through the O2 project," says Andrew Scott, CEO of Orbital.(来源: Orbital Marine Power Ltd.)