Customers will be able to integrate Rize 3D printing technology with Dassault's 3DEXPERIENCE software platform.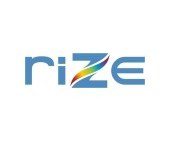 Rize composite 3D printing logo
Software provider Dassault Systèmes (Waltham, Mass., U.S.) has partnered with additive manufacturing company Rize Inc. (Concord, Mass., U.S.) to enable integration of Dassault Systèmes' 3DEXPERIENCE software platform with Rize 3D printing technology.
According to Rize, this software/hardware combination will enable users to easily design and print full-color 3D functional prototypes, production tooling and end-use parts using industry standard software.
Through the joint offering, designers will be able to integrate UL GREENGUARD 2904 certified Rize 3D printing solutions within their engineering workflows to accelerate design verification. Manufacturing users can produce carbon fiber composite parts that require high stiffness and strength for functional applications in custom tools, jigs and fixtures.
The National Institute for Aviation Research (NIAR) at Wichita State University (Wichita, Kan., U.S.) is a Dassault Systèmes customer utilizing the new partnership. "NIAR-WSU is at the forefront of innovation in additive manufacturing, and we have built the first Smart Space on the 3DEXPERIENCE platform, combining additive manufacturing and AR/VR applications from Dassault Systèmes, Rize full color and composite 3D printing systems and the NIAR additive consulting and training expertise," says Shawn Ehrstein, director of emerging technologies and CAD/CAM at NIAR. "We believe this will deliver smarter workflows in engineering and manufacturing and the adoption of Industry 4.0 methodologies. As a Dassault Systèmes customer, we believe this solution delivers accelerated time to value to the industry."
"Our customers are focused on using additive manufacturing and are looking for ways to accelerate the business value. The combination of Rize's Smart Spaces and the 3DEXPERIENCE platform provides a strong package to help customers better realize the value of this transformative technology," says Noam Ktalav, director of partner excellence and global value solutions at Dassault Systèmes.
"Dassault Systèmes is our trusted strategic partner and we are delighted to serve its customers through a unique set of offerings from Rize's Smart Spaces program, which will enable them to get higher value from their existing investments, and leverage the industry's latest advances in productivity and safety," says Andy Kalambi, president and CEO of Rize. "At the same time, RIZE customers will enjoy new benefits leveraging Dassault Systèmes applications along with Smart Spaces as well. It's a win-win for all."(来源:CW)