The new DuFlex and Featherlight distributors are Etap Marine in Istanbul (Turkey), Directeck in Aubiere (France) and WS Marine in Genova (Italy).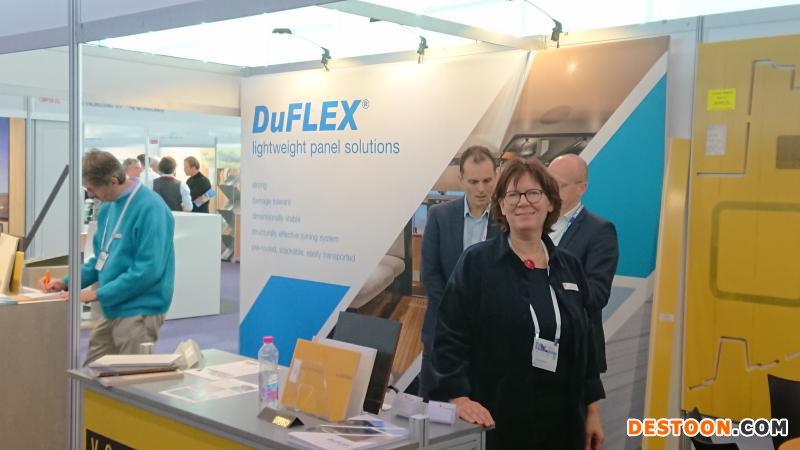 ATL Composites announces agreements with three new European distributors - Inga von der Linden, Director at vdL Composites
Inga von der Linden, Director at vdL Composites, based in Wesel, Germany, /confirm/ied:"We have established Distributors for our DuFLEX and Featherlight composite panels in France, Turkey and Italy.They are the West System distributors for those countries, and consequently, we have had relationships with their companies through the West System network. But it was through exhibiting at METS that we met face to face and decided to work together."
Lorraine Murray, Director at ATL Composites, added:"They are extremely well placed in key markets to supply some of the world's premium boat builders. We are looking forward to more vessels coming on to the global market with the quality DuFlex/Foam and Featherlight panel systems for light-weight, strength and durability."
The new distributors will stock a mixture of DuFLEX/Foam and Featherlight panels in various thicknesses and with single and double layers of e-fibreglass skins to service their local customers. They will also be in a position to offer custom panels including full sized component packs, for one-off projects and/or for their local production builders, produced to specifications by vdL Composites GmbH, which is based in Germany.
Lorraine added :"These custom panels could also include panels with high density inserts for hardware installations which were of great interest to many of the professional boat builders who visited our stand at METS.This was our seventh consecutive year exhibiting with vdL Composites GmbH and the most fruitful. Australian brands and businesses enjoy great respect for our ingenuity, quality and proactive approach to tailoring solutions to every customer's unique requirements."(来源:JEC)